Water park fun tailored for younger kids
This Emoji-themed aquatic playground is a fun and exciting feature for Tidal Cove's younger adventurers and park-goers. Slide into the fun of games, water activities, an ice cream-shaped tipping bucket, and more at Kids Cove!
Behind the Scenes With Autumn
If you're looking for the inside story on Tidal Cove, you've come to the right place. Learn more about Autumn and her experience investigating the twists, turns, and endless excitement of a day spent at South Florida's #1 water park!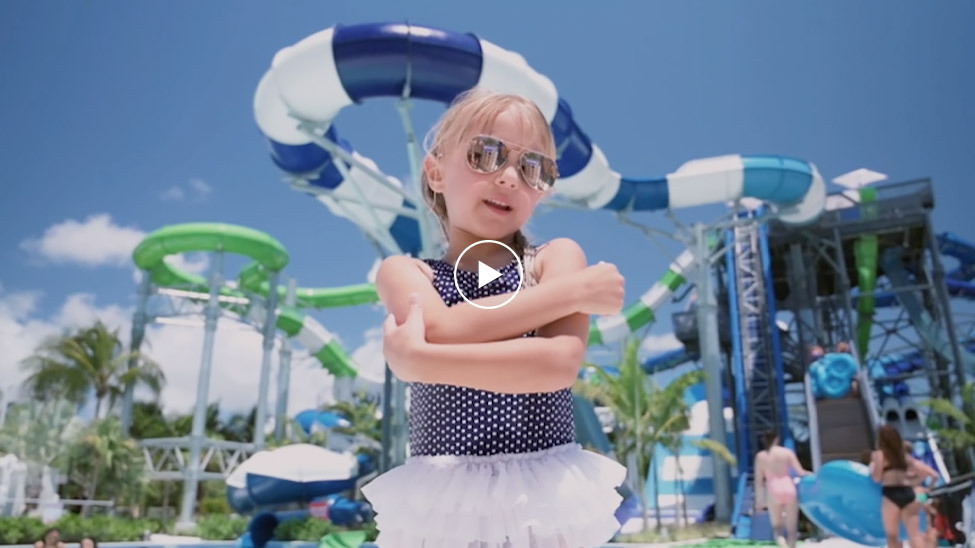 Questions & Answers
In one word how would you describe Tidal Cove?
What are your top three items that you recommend for the ultimate adventure at Tidal Cove?
Unicorn snot sunscreen because it has glitter in it and keeps me from getting burned. A bathing suit, of course. And my waterproof camera to take fun pictures underwater in the pool. And I need my flower sunglasses too!
Which slide is your favorite attraction?
The Whizzard! I love slides where I go down on my tummy. It also has fast turns and a big drop at the end that I love.
Which slide do you enjoy the most with your family?
My sisters and I like to go down the slides at Kids Cove.
What is your favorite gelato flavor from Freestyle and why?
I get double scoops with chocolate and cookies n' cream. I like to put marshmallows on the top, too.
What is your ideal meal to finish conquering the day at Tidal Cove?
The grilled cheese is the best I've ever had in my life.
What are your favorite items from our retail store and why?
I LOVE the candy section! I get to put all the sweets I like in one bag. It's so much fun. I also love all the sunglasses - I have the flower ones - and they have sunscreen with glitter in it that's called unicorn snot. How funny. There are so many toys in there too - I really like the mermaid ones.
What is your favorite drink from Surf House and why?
The lemonade is so yummy and sweet, but I also love to drink the pineapple smoothies out of a coconut.
Why should your friends come to Tidal Cove?
My friends should come because they will have the best day ever! Tidal Cove is so much fun. We never want to leave.
Why do you want to have your birthday party at Tidal Cove?
I can't wait to turn 6 at Tidal cove. It's the most amazing place I've ever been.
Request information on having your party at Tidal Cove